LID BIN CRISPER - M1296785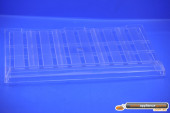 LID BIN CRISPER - M1296785 - Kelvinator
LID BIN CRISPER
Stock Level: Available to order from manufacturer
$80.05
Freight

We don't currently have any of this part in stock and will have to order it from Electrolux. Generally, parts ordered from Electrolux will arrive in our warehouse within 3 to 5 Business Days and ship to you the same day it arrives.
LID BIN CRISPER - This is a Genuine Part - We use Unique Part Numbers - Part are delivered in Original Packaging with Manufactures Part Numbers. Your invoice will show both our Unique Part Number & The Manufactures Part Number
Online Appliance Spares delivers products Australia-wide using Australia Post. Orders are dispatched within 1 business day if the items are in stock. Shipping times are estimated at between 3-7 business days depending on your location within Australia.
You may also be interested in...